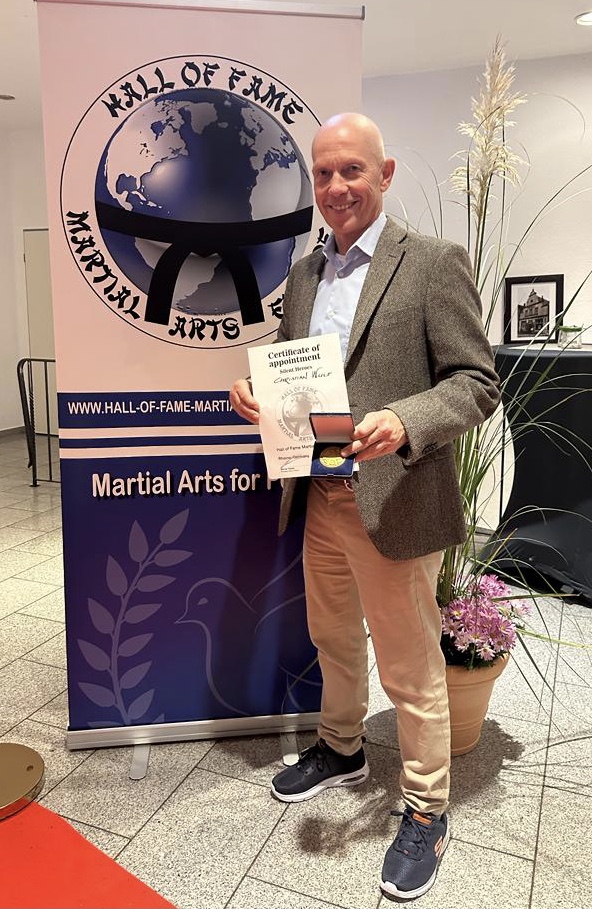 28.10.2023 – Hall of Fame Martial Arts Europe 2023
GM Christian Wulf wurde im Oktober 2023 für seine langjährige, erfolgreiche über 55 Jahre tätige Arbeit in den Kampfkünsten in die " Hall of Fame Martial Arts Europe" mit der Gold-Kategorie geehrt. Auf einer von Werner Tewes glanzvollen Gala & Charity Veranstaltung in einem Hotel in Rheine traf GM Christian viele langjährige Kampfkunst Freunde und ehemalige Turnier Konkurrenten. Es ergaben sich viele interessante Gespräche.
Neben GM Christian Wulf (Whkd-Kajukenbo) wurden auch so bekannte Kampfkünstler aus den verschiedenen Bereich wie GM Keith Kernspecht ( WingTsun), Michael Kuhr (Kickbox-Weltmeister), Henk Meijer (Taekwondo Weltmeister), Earl Blijd (Wushu), Jan Silberstorff (ChenTaiChi) u.v.a. geehrt.